Different Art to Use: Wedding Invitations
When I mean that art should be in people's lives, I am talking precisely about everyday objects, things people can touch, hold in their hands, see close, and admire every detail.
In this case, I share some wedding invitations that I painted in 2002.
The Wedding
My friend Monica was getting married, and I wanted to give her an extraordinary gift, out of the ordinary. I remembered that I had already made some cards, where the silk application was placed in a window made in the cover of the card so that you could appreciate the front and the back of the silk.
For this special occasion, I asked Moni how she would like her invitations, and from that consultation came the proposal: four-color background using the speed with which the dye expands in silk, so that when applying two colors at the same time (yes, with both hands) they block each other. Immediately afterward, switch brushes to achieve the same effect from the other side. Once the dyes dried completely, it was time for the metal gutta; I applied the outline with the metal tip and the inside with a brush. This is the result.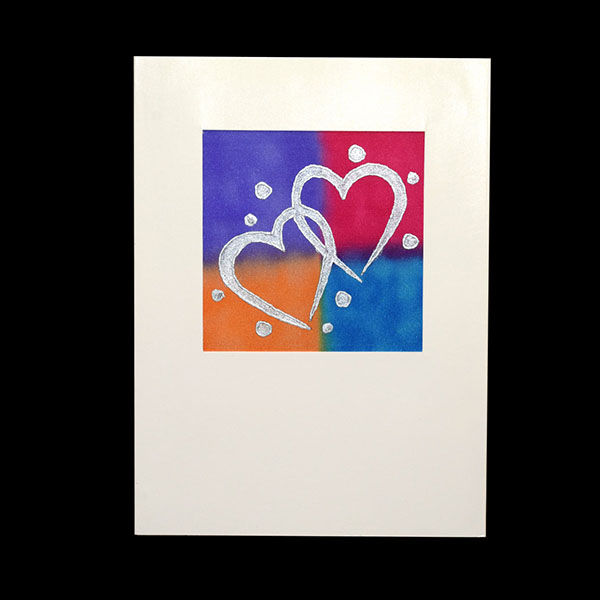 The Wedding Cards
After having painted all the applications, it was time to mount them on the cardboard with great skill to keep the silk perfectly tense. I used double-sided tape and tightened the silk in the same way I do on the wooden frame for each piece. Then Moni decided to add a sheet to give it background because the window on the cardboard, together with the transparency of the silk, allowed reading the text below.
You can see more invitation ideas in the Gallery + Different Art